True Vine Ministry of Indian River is a Christ centered ministry of healing
for the whole person: spirit, soul, and body. (1 Thess. 5:23)

It exists to help Christians grow in their faith by guiding them to look to
and abide in Jesus Christ for healing, health, and wholeness. (Jn. 15:1)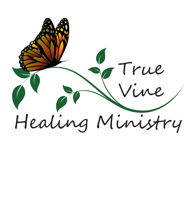 True Vine Ministry of Indiain River is a 501(c)(3) ministry that has a three fold, Christ centered, purpose of teaching, training, and healing prayer ministry.
TEACHING
A key to continued spiritual, mental, and physical health is what we believe about God, ourselves, and the world around us. From a Biblical, Christian perspective, TRUE VINE offers opportunities to learn God's truth about Him and ourselves in such a way that enables us to respond to life in accordance with His will for us.
TRAINING
For those who feel called to be trained in Prayer Ministry, TRUE VINE offers courses in praying for others for deep inner healing. This Holy Spirit guided, systematic approach enables one to learn and grow at their own pace.
PRAYER MINISTRY
Many of us have been hurt deeply in our lives. Those inner wounds can often prevent us from living joyful, fruitful lives. TRUE VINE offers prayer ministry appointments where under the guidance of the Holy Spirit, deep inner wounds of the soul and human spirit can be healed.
TESTIMONIES
HOW GOD CAN WORK IN YOUR LIFE...
"I received Jesus as my Savior more than 30 years ago, grew up in a Christian home, graduated from a Christian high school and college, and have participated in a number of Bible studies. Somehow I missed learning and realizing the healing power of Jesus until I came to True Vine Healing Ministries!"
"This ministry has helped me draw closer to Jesus. I now know personally His truth, love and acceptance. Jesus brings His word to life in me, binding up what was broken, restoring what was lost, and freeing me from what held me captive. I am growing in true freedom and the abundant life of Jesus."
"My past has been healed and I rejoice in everyday looking forward to my future knowing Jesus is always with me. Now I know what it means to have a personal relationship with Jesus! I am so thankful to be part of this ministry, its teachings and to see the changes in my life and in the lives of others."
"I found that this ministry has helped me to know God better and to trust Him more. He is a big God and True Vine has given me tools to get closer to Him."